Creepy: Room 1408 Press Junket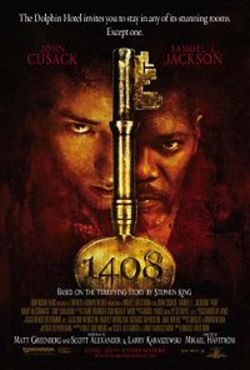 This morning, MovieWeb offers up a very good, occasionally tantalizing,
transcript of the "Room 1408" press junket at the Four Seasons Hotel (which
took place last Friday). Here, stars
Samuel L. Jackson and John Cusack wax semi-profound about the Stephen King short
story turned into a horror movie.
The conceit of a mysterious hotel room is an old one, but
one that still gets a lot of play. Heck,
it's even appeared in video games, most recently with Hotel Dusk for the Nintendo
DS. But hopefully "Room 1408" will give us
all some thrills and frights.
By my count, this is the sixth or seventh King short story to be turned into a movie. Guess Hollywood's running out of the master's novels to make into flicks. The stars don't talk about this dwindling supply of King tomes to make into movies, but they
do answer questions like whether or not they believe in ghosts.
Jackson had the best stories. Check 'em out
after the jump.
You can almost hear Jackson's
deep voice quavering just a little as he relates this tale: "There were people
who died in our neighborhood that we saw long after they were dead. If you were
out at night in the wrong place, doing something doing something you weren't
supposed to be…You'd look up, and there would be that lady who used to call
your house and tell your mother you were doing something wrong. You'd be like,
She's dead. She's not supposed to be here!" And you weren't the only
person that saw her.
"We had phenomenon like that, and it went on throughout my
life. We've gone through some interesting things. People would tell you stories
about places you could go to see some of this stuff. There was a school bus
that turned over in this particular place, and if you go there at a certain
time of night, you can hear the kids crying and tires screeching. We'd go there
and, sure enough, you'd hear it. So there are lots of things that we can't
explain. Somebody somewhere has seen these things and they write about them.
Some people remember them vividly enough to write about them. Some people make
them up. But there are lots and lots of things that we can't explain, that are
just part of our culture."
He's got that right. Remind me to tell you sometime about the ghost I met who liked to tuck
men in at night at an ancient bed and breakfast in Mystic, Connecticut.
Read More