Conan Franchise Eyed By New Line Cinemas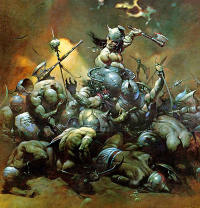 Conan the Barbarian is not science fiction. I know it. It's sword and sorcery of the most visceral temerity, filled with crumbling monsters risen from Stygian crypts, nubile young priestesses in peril and men with sinews as sharp as their swords. But until AMC has a sword and sorcery blog, I'm going to take it upon myself to write about all things Conan, because he is my favorite hero in literature.
So the news is this: Warner Brothers — who owned the rights to the Conan franchise and produced the incredible John Milius version of Conan the Barbarian (as well as its execrable sequel) has lost the rights to the Conan franchise. New Line Cinemas is currently looking to pick it up.
This actually makes me a bit sad. I've long hoped that Arnold Schwarzenegger and John Milius would team back up to do a third movie. It's still a viable movie: Howard's books end when Conan is the King of Aquilonia and in his sixties or seventies. Conan the Barbarian was not 100% accurate to its source material, and Arnold himself was not quite right for the role (he had the right physique, but his demeanor is too stupidly bovine to portray the intelligent and resourceful Conan), but they somehow managed to capture a lot of the feel of the books.
It's no secret that Milius has been trying to get King Conan off the ground for years. Apparently, a large part of the delay was Warner Brothers really wanting to veer from his original vision to something that was more reverential towards Howard. I'd like to see New Line take that direction, but it's hard to imagine who they could possibly get to play Conan. Arnold Schwarzenegger, for all his faults, is still the only one I can imagine in the role.
Warner Loses, New Line Eyes Conan [Sci Fi]
Read More