Colossal 5-Disc Blade Runner DVD Out In September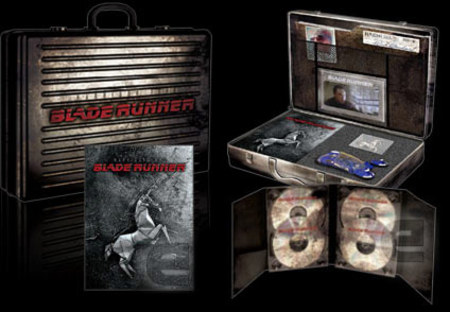 For years, fans of Ridley Scott's cyberpunk masterpiece Blade Runner have been chomping at the bit for a proper DVD release. 2006's Remastered Limited Edition satisfied some, but it left one group of Blade Runner fans disappointed: the profane weirdos who actually liked the original cut (and I'm one of them.) But if the upcoming DVD rerelease of Blade Runner is anything to go by, it looks like we're about to be medicated.
It's no secret that Ridley Scott loathes what the studio did to his film. Deciding that Blade Runner was too ponderous and metaphysical to appeal to sci-fi cinema goers in the thralls of Star Wars mania, the studio forced Scott to append a track of narration, in which Harrison Ford's protagonist Deckard explains some of the more open-ended plot points to the audience, leading them step-by-step through an admittedly high-concept and ambiguous plot. Additionally, they added a happy ending and removed a dream sequence that implied that Deckard was a replicant (an interpretation Ridley Scott has strongly pushed over the last twenty years, but it's worth mentioning that Harrison Ford never thought Deckard was anything less than human).
There's no doubt that the original version was dumbed down. But I have always guiltily loved the narration in the original theatrical cut: it gives the film a Chandleresque, sci-fi neo-noir aesthetic which is muted without. And while we're rare, I'm not the only nutter who enjoyed it, or wit would be given a proper DVD release.
It now looks like the nutcases are going to get their wish. Details of the upcoming release of Blade Runner: The Ultimate Collection have been leaked, and deliciously, five different versions of the film are included. Additionally, a newly created documentary — "Dangerous Days: Making Blade Runner" — and over 3 discs of extras are going to be included. Here are the full details for the release.
Blade Runner: The Ultimate Collection has a street date of September. But be prepared to pony up some serious clams. Full details of all the extras can be found at the link below.
Details on Blade Runner: The Ultimate Collection [Binary Bonsai]
Read More