Clive Barker: Scary Games Trump Scary Movies???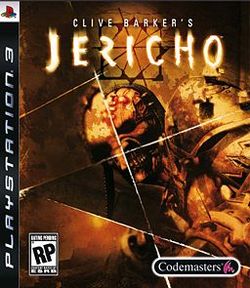 Horror-meister Clive Barker, probably best known to movie fans for the S&M-ridden, Pandora's Box-inspired adaptation of "Hellraiser" (at least the first one was scary), is about to create a storm of controversy with the words he spewed at a Hollywood conference yesterday.
Barker's been hard at work on a new horror video game called "Jericho." That's not news. But this is what he told The Hollywood Reporter: "Maybe if games hadn't existed, I would have said, 'Make it a movie,'" Barker said at the second annual Hollywood & Games Summit in Hollywood. "But I much prefer the idea of having 20 hours to play this world, to enter this labyrinth."
So what is the guru of gore saying exactly?
He may be saying that games are better than movies to scare the heck out of you. That's an outlandish statement coming from someone who's made millions from Tinseltown films. Yeh, he's at a game conference, and he wants to stroke the game people – to make them think they're as important as filmmakers.
The weird thing is, he could be right. The depth of fear and story in games like "Resident Evil 4" is certainly better than the level of fear in some of the schlock that masquerades as a horror movie these days.
Yet there's nothing like the nigthmarish magic of film and the big screen to set an audience to growing collective goosebumps. And who doesn't want to hear someone in the crowd yell, "Don't open that door!"
Barker's Jericho for Codemasters is a "gory horror piece set in a remote desert outpost, was originally conceived as a novel by Barker." If it's got as much chops as one of Barker's novels, it may be one of the great horror games of the years. And you know what happens to great horror games (even bad horror games), don't you? They get made into Hollywood movies. Just don't let Uwe Boll direct. OK, Clive?
Read More