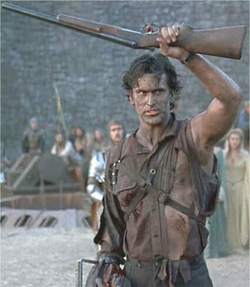 If you're like me, you feel like it's worth sitting through an ad for moisturizer (or something) to see an interview with Bruce Campbell for his new show. It's not horror directly, but anything he touches is worth our notice, I think. He's just meant so much to us, I want to follow him wherever he goes.
I don't mean when he goes to moisturize (or something), I mean just seeing him on screen just makes me happy.
Are there any other actors like that from our genre of choice. Like, you would sit through a Western just to see them? Malcolm McDowell maybe?
Here's Bruce's (entertaining! well maintained) personal site. Like you don't have it bookmarked already (or something).
Read More