Box Office Numbers of the Beast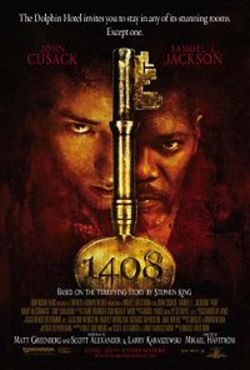 A cool sideways image today from 1408 which had a pretty decent opening this weekend quashing, perhaps, those goofy rumors about horror being "over."
There was an article in the Paper of Record a few weeks back commenting on the lackluster take Hostel 2 pulled in, and the chump change Grindhouse ground out. It suggested horror was "over," but clearly when the star power gets amped up folks will hand out twenty million rebuttals to that overheated opinion.
Hostel 2, by the way, pulled in another million which makes it's overall haul roughly double its budget. That buys a lot of kleenex to wipe away the tears any Times review might bring.
No numbers for Black Sheep for reasons unknown. I had already
planned my awesome, "Black $heep" headline, and got sheered off at the
pass. We get our numbers, btw, from Box Office Mojo.
So, worry not (if you were), our genre of choice is undead and
kicking. I'd give anything to know why 1408 did so well, beyond its
quality. Was it the author's name (we've discussed this), the stars
(Cusak and Sam Jackson are sort of in too much to be a draw by
themselves), the plot (generic seeming) or was it a week where nothing
else was sort of out (your alternatives were warmed-up blockbuster
leftovers or Evan Almighty – not really a date movie)? What makes a
hit?
Can 1409 be far behind?
Read More