Beautiful & Vicious: Rakhi & Acts Of Horror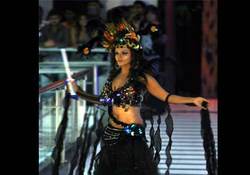 It's two-for-one today, folks. I started the late morning by finding out about Bollywood 'item girl' Rakhi's appearance in the Graveyards Collection fashion show. (An 'item girl,' btw, is a person who appears in a Bollywood movie, usually singing a song that has nothing to do with the movie's story.) Because Rakhi looks so beguilingly, beautifully horrific as a witch, I thought I'd share a picture with you.
Says IBN Live, "The collection was inspired by the 'Jungle' and showcased deep greens and browns, while the 'Graveyard Shift' line played on the concept of karma. And what was the occasion for such an unusual theme Designer Rohit Verma put together the show to celebrate the success of House of Horrors in Ville Parle in Mumbai.
Then, on Rakhi's site, I found something that almost scared the pants off me. Wanna see?
After Rakhi, I linked to the "Acts Of Horror" webisode page and watched 3, 15-minute installments about a father-addled kid who is haunted by a creepy, John Wayne Gacy-looking clown. Overall, you get the feeling that the parents are to blame for the poor, 12-yea-old's haunting.
I don't know how old the link is, and I don't care. "Acts Of Horror" is expertly filmed, nicely acted and it gave me the creeps more than once. The ending though, ain't so hot, although it's better than the ending from the piece of drivel ghost story I watched on DVD over the weekend, "The Off Season."
Read More