Battlestar Pegasus Coming To TV And DVD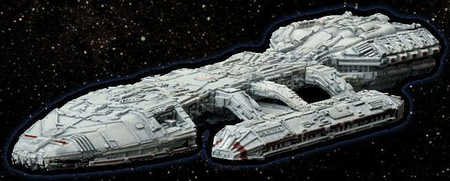 I've long hoped that Ron Moore would decide to create a spin-off series focusing on the Battlestar Pegasus, the briefly-seen sister ship to the Battlestar Galactica. For an already dark show, a prequel spin-off seemed like a no-brainer: while the Galactica protects the last fifty odd ships that have survived the initial Cylon attack, the Pegasus fends for itself, alone and adrift in space, as far as they know the last of an extinct species. The people they were sworn to protect are all dead, yet they fight on. That's some great television: what would an even darker Battlestar series look like?
It looks like we're about to find out. Sci-Fi has announced that a two-part Battlestar Pegasus miniseries will be part of BSG's fourth season. This is actually meant to be viewed as a stand-alone story arc, focussing on Admiral Cain and the Pegasus between the attack of the colonies and their reunion with the Galactica.
What's interesting is that while the two episodes will be broadcast as part of BSG's fourth season, they will then quickly be released on DVD as a feature film, with more content and scenes edited in specifically for the DVD release. The motivation seems to be entirely legal: because the original creator of Battlestar Galactica owns all movies rights to the franchise, what would otherwise be a Battlestar Pegasus feature film has to be produced under the television budget to be viable. I can't wait.
BSG Pegasus Movie To Get Deluxe DVD Release [Slice of SciFi]
Read More