Artist Recreates Panel Discussion Between Asimov, Bradbury and Clarke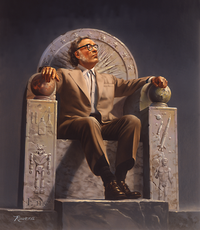 In 1963, a group of science-fiction luminaries — Isaac Asimov, Arthur C. Clarke and Ray Bradbury, amongst others — hosted a panel entitled "1984 and Beyond" in which they attempted to soothsay the scientific developments of the late twentieth century and beyond. The panel, published in Playboy Magazine, was eclectic and far ranging: the future of contraception, the sentience of the Earth, medically-induced orgasms and moon travel cheaper than an airplane flight.
44 years later, Irish artist Gerard Byrne has recreated that almost forgotten panel discussion at this year's Venice Biennale. A video presentation featuring Dutch look-alikes (and not-so-much-alikes) in vintage suits, spread across three video monitors in twelve separate chapters, Byrne's work attempts to recreate not so much the details as the truth of the place and time, where great minds whizzed and collided as they feverishly imagined our now retrofuture.
An Irish Artist's Time-Twisting Storytelling [Washington Post]
Read More