An Extended Stay in Room 1408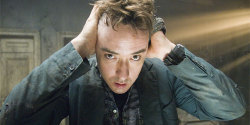 We don't shy away from the fearless predictions, no sir. After the rave reviews 1408 received last week, and the poor ones it's more family-oriented competition got – the critics just said No(ah) – we say 1408 should do more bang-up business this weekend. So guess-eth us!
So with this and Disturbia doing so well, we can totally, and I don't know why I take it so personally, put that Times article (Horror – Dead?) in the recycling bin.
1408 not your cup of tea? It matters not. When the big boys do well it trickles down to the indies. Hooray for us forever. I'm no stats junkie, but I've become addicted to those box office numbers of the beast.
Read More