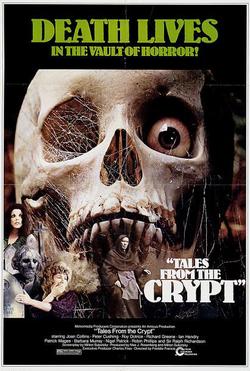 Let's say there's a woman trapped inside a house.
In the world of horror movies, women are, of course, always getting stuck in houses by themselves, and the houses are always in danger of invasion. Through the door? Through the window? Through the basement? It doesn't really matter. The point is: someone (or something) is coming.
I lived in a big, lonely house when I was a kid, and these women-trapped-in-houses scenarios could usually be counted on to scare me pretty badly. But the single most unnerving one I ever saw wasn't from a particularly celebrated horror movie. It was 1972's Tales from the Crypt, the recently deceased director Freddie Francis's British-made group of adaptations from the 1950's EC comic strip.
In the film's first story, Joan Collins plays a woman who murders her husband on Christmas Eve, while their daughter – a girl of about eight – lies in bed upstairs. As Joan cleans up after the act, the Christmas carols on the radio are interrupted by an announcement that a homicidal maniac has escaped from a local insane asylum. Everyone in the area, the radio says, should be on the alert for a six-foot-three man with dark eyes, weighing 210 pounds.
Joan locks the door and gets back to what she was doing as if nothing much is wrong. Moments later, a curiously sinister outside shot shows the 6'3" Santa walking up to the door, a little Christmas bell in his hand. He bangs on the door, and then peers through the window – eyes bugging, Santa hat askew. Boy was he creepy. Joan hides on the floor just under the window. Does he see her? It's uncertain, but somehow we sense that Santa knows Joan is in there – that he has, in fact, come precisely for her.
Sometimes the women in these houses get rescued at the last minute. At other times – especially in more enlightened recent years — they battle off the intruder(s) or escape all by themselves. But however things shake out, a good woman-in-a-house scenario always underscores one primary fact: our vulnerability in a big, scary world.
My vote for best variation on the woman-in-house theme? 1969's The Shuttered Room, another British adaptation – this time of an H. P. Lovecraft and August Derleth story — that played endlessly on local TV stations when I was a kid but which is all too hard to find these days. In the most effective of the film's many great scenes, Carol Lynley is watched by someone not outside, beyond the windows of the big scary house she's in, but from inside a dollhouse that's right there in the house with her.
Read More