The Godfather of Gore, H.G. Lewis, and Terror Thursdays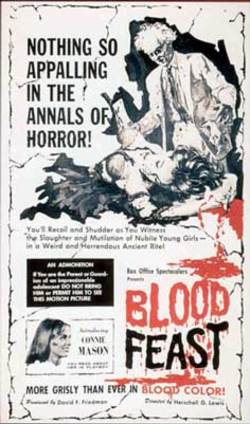 We're pretty sure that most of you like to kick back and watch a horror movie. Maybe you watch them on DVD or on AMC's Fear Friday. But what if I told you there's a movie theater — Drafthouse, named the best movie theater in America by Entertainment Weekly — where you can see a horror movie have a pizza or a burger and it's absolutely free! Well, the movie's free, but you've got to pay for the food.
They do it every Thursday night at midnight with 35mm prints of usually little-known (or seen) horror movies with trailers and prizes, along with an audience that appreciates what they're seeing.
Terror Thursdays is one of the Drafthouse's weekly signature screening events such as Music Mondays and Weird Wednesdays. Tonight you can check out the 1984 "cheerleaders vs. zombies" fave Night of the Comet. Future screenings will include Joel M. Reed's anthology flick Blood Bath, and, just in time for Father's Day, Terry O' Quinn in The Stepfather. The original Drafthouse location will be closing at the end of June, with a new location opening at the end of August just a few blocks away, and Terror Thursdays will
be taking the summer off until the new place opens.
Terror Thursdays is also sponsoring a Drafthouse Rolling Roadshow event with the Godfather of Gore, H.G. Lewis!, that no horror fan should miss. It's a double feature outdoor screening of Blood Feast and 2,000 Maniacs with Lewis in attendance shown in a Texas ghost town! While this event isn't free and there's no BBQ, I can't imagine a more fun way to spend the holiday weekend. Then why am I not going? Oh yeah, I don't live in Texas.
Read More