The Coen Brothers and Their New Film, "No Country For Old Men"
Posted by Eugene Hernandez / indieWIRE on May 27, 2007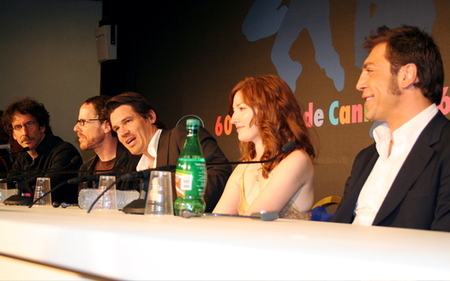 "Being here at this table, with the Coens in Cannes, is like a dream," beamed actor Javier Bardem
earlier this week. Well known for his work on Julian Schnabel's 2000
film, "Before Night Falls," the actor is in Cannes with a lead role in
Joel and Ethan Coen's latest feature, "No Country For Old Men."
Adapted from the Cormac McCarthy novel of the same name, the film stars Bardem, Tommy Lee Jones, Josh Brolin, Woody Harrelson, and Kelly Macdonald, in a violent crime drama set in the American Southwest.
While some had imagined the movie being adapted into a western, the
Coens see it a bit differently.
"We saw it as a crime story," explained Joel Coen during a press
conference in Cannes, saying that after the fact he and his brother
Ethan noticed some similarities between their new film and their 1996
work, "Fargo."
Humorous moments punctuate what is the examination of violence in
"No Country for Old Men," a topic that came up during a lunch with the
Coens and actors Javier Bardem and Josh Brolin earlier this week in
Cannes.
"There are certain moments where it depends on who is behind the
camera," Bardem related, reflecting on the tone of the movie and the
sometimes uncomfortable laughter that greeted screenings of the movie
here at the festival. "It could be funny. Laughter is a way to release
that (tension)."
And commenting on working with the Coen Brothers, Bardem added,
"They dont talk much (but) they are always ready to give you the right
anaswer. "The don't tell you much information unless you want it."
[Photo: In Cannes, from left to right, Joel Coen, Ethan Coen, Josh
Brolin, Kelly Macdonald, and Javier Bardem at a press conference for
"No Country for Old Men." Photo by Eugene Hernandez/indieWIRE]
Read More