Splatter Disco Song Contest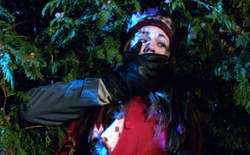 The girl in the picture is being silenced, but you don't need to be anymore. Splatter Disco, released this year by Shock-o-Rama, is holding a theme song contest, and the rules have been forwarded to us by director Richard Griffin. He also gave us this teaser-pic.
For the contest rules and more on the movie, take the leap!
Here are the rules: The song must be an original composition of between two and three minutes in length. It must contain the film's title (Splatter Disco) in the chorus. Generally speaking, we are looking for music in the rock, techno, goth/industrial & pop genres, although we will consider other submissions as well. Deadline for submissions is June 5th.
E-mail a low-rez version of your song to Splatterdiscosongs@gmail.com
If your song is chosen for the next round of the contest, you will be contacted to submit a high-rez version of your song. Three finalists will be chosen from this group. The winning submission will be the theme song for Splatter Disco! The second and third place songs will be featured throughout the film. All three finalists will receive a credit on the film as well as a credit on the IMDB!
I'm totally entering, and you can follow my progress as I work on the song over the next week.
Here's the pitch from the mouth of the creative force (Griffin) himself: "When the sanctimonious citizens of a provincial Rhode Island town attempt to close down the local fetish club just before the holidays, a series of mysterious and brutal murders expose an even greater threat to them all."
We're sold, and with the opportunity to pop in the disk, hit play and hear our own song playing while the credits start coming up? Crystal skull! Better get started on the lyrics.
Read More