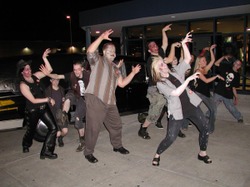 It should be clear the photo on the left is not from the movie Splatter Disco, but is instead included to indicate the result I hope to produce with my entry to their song contest.
There are those who say you should compose the music first and then the lyrics, and there are those who say the music and lyrics should be developed together. I say: "Lyrics first! What rhymes with 'disco'"?
To find out and to see the first struggling attempts at songcraft, take the leap!
So, the words will have to relate to the plot, I think, and all we know so far is it's about a fetish club that gets shut down around Christmas time. Not enough info to make it as detailed as the greatest horror movie song of all time. You know, The Ballad of My Bloody Valentine. Also, that slice of freak-folk brilliance played during the end credits, and my song will be at the top, baby.
Unless one of you beats me.
But that hardly seems possible when you see I have already found the best rhyme for "disco". It ain't "San Francisco" and it aint "Crisco". It's…well, see the chorus for yourself.
If you go on down to the Splatter Disco
You know you gonna put yourself at risk. Oh!
That's right. "Risk. Oh!" Beat that, interwebz!
Oh, and each line has exactly eleven syllables as well. Take that iambic pentameter! My song goes to eleven!
So, with a solid gold chorus the rest should just slide totally into place. It's called songcraft, goatlings.
Dare you match me?
Read More