Seinfeld Buzzes Through Cannes
Posted by Peter Knegt / indieWIRE on May 17, 2007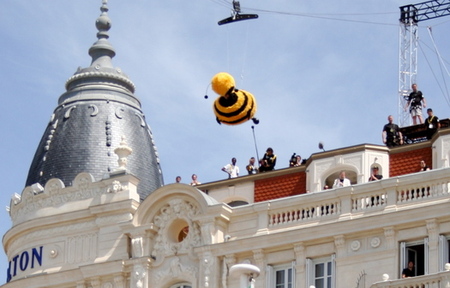 Large-scale promotional stunts have become a Cannes tradition. Last year, Dreamworks showed off clips of "Dreamgirls"
and paraded its stars on the beach and that worked a long way in
creating buzz that lasted all the way through to its December release.
Thursday afternoon, Dreamworks was at it again, promoting Jerry Seinfeld's upcoming animated film, "Bee Movie."
The event started at the Miramar Hotel with Seinfeld, Chris Rock (who voiced a character in the film), and Jeffrey Katzenberg introducing a series of clips from the films. Some were still in storybook stages, but most of it was the finished product.
Seinfeld and Rock answered some questions from the press, requesting
the reporters leave the comedy to them after two consecutive failed
attempts at "bee puns." They then assured us that the "best was yet to
come" and asked everyone to go across the street to the beach.
In the bring sunlight outside, with crowds gathering on the Croisette,
a giant wire suddenly came down from an eight-story building across the
street and Seinfeld appeared at the top of it wearing a giant bee
suit.
Rock stood on the beach and asked a Seinfeld why he was attempting
this: "You know, a lot of people just go on talk shows and tell jokes.
You do have jokes, don't you?" Seinfeld replied: "This is my biggest
one," and then plunged through the sky.
The other notable promotional event takes place next week, when New
Line unveils scenes from their $150 million fantasy epic "His Dark
Materials: The Golden Compass." "Bee Movie" will be released in North
America this November.
Read More