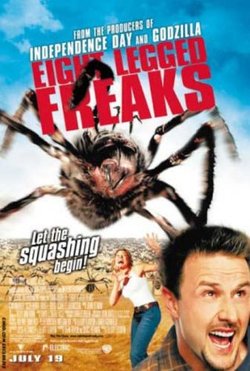 Since we're running with the idea this week that Spider-Man 3 is a horror movie in disguise, we'll go ahead and highlight some of the other fun spider-themed scare-flicks whose tradition it's following.
What a complicated web of a sentence that was!
Not as complicated as your emotions, however, when you watch this archived interview with Scarlett Johansson. Believe me, I tried to make a weird pun using the words "archived" and "arachnid"!
You're probably watching it now, probably clicked when you saw her name, but in case you're still here I'll point out that in it she discusses some scary encounters with spiders. Celebrities, they're just like us!

Eight Legged Freaks was kind of a sleeper. It was an homage to old drive-in movies before homages to old drive-in movies were cool (or supposed to be)*. It's pretty funny and sort of scary, and I think it got kind of lost in the shuffle back in those hazy palindromic days of 2002.
Worth another look, especially since it's an example of that genre we dignify with the name "horromedy". When David Arquette screams the title as a line of dialog, it's worth whatever you paid. Super cool and super fun.
Give it another look!
*cheekiest retitled link ever! Oh, Todd, you devil.
Read More