Party Circuit: Buying "Product" or Watching Movies?
Posted by Eugene Hernandez / indieWIRE on May 18, 2007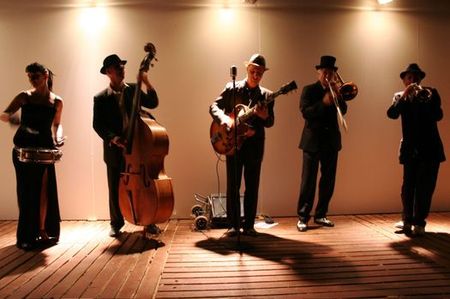 While Cannes opened with a "Blueberry" bash on Wednesday night just outside Cannes, the massive Marche du Film
(featuring 10,000 films buyers and sellers from around the world and
some 1,500 screenings of films) officially kicked off on Thursday night
with a beach party at the Majestic Hotel. Even though most buyers and
sellers have been doing deals since Monday at the world's largest film
market, the annual outdoor party offered a chance for four solid hours
of face-to-face networking amidst a bountiful spread of food and drinks
at stations spread throughout the sandy Mediterranean beach and
adjoining dock.
Overheard at the party was a conversation between two attendees that sums up the Cannes Market well:
"I was talking to someone today and I asked him what sort of product
they we're looking for," one market-goer told the other. "And he said,
'I don't look for product, I watch movies."
The two suited men had a hearty laugh at the comment and the other
reacted, "Then what's he doing here? He's in the wrong place."
Meanwhile, on a hill above Cannes, an even larger crowd of festival
attendees filled the sprawling grounds of a local villa that has been
reworked as an additional outpost of M1nt, dubbed the world's first
shareholders members' club (with branches in London and Hong Kong). The
club launched its Cannes run with Thursday night's bash that included Basement Jaxx
on the DJ decks and partiers ponying up top dollar for full bottles of
alcohol. Guests were shuttled to the spot in London Black Cabs, branded
with logos for the week.
Revelers mingled alongside the pool and others danced from an
elevated platform overlooking the large lawn. Spotted in the crowd
included male supermodel Markus Schenkenberg as well as a number of other celebs who were spotted and rumoured to attend including: Cameron Diaz (supposedly wearing a wig), Gerrard Butler, Lily Cole, Brittany Murphy, and Danny Masterson. Jessica Simpson was on her way, but didn't make it in the end (according to an insider). She is apparently coming later in the week along with Daniel Craig, Kurt Russell and Caprice.
Oh, and Ivana Trump is having a party at the hotspot next week!
Read More