On AMC: Raimi's Spider-less Film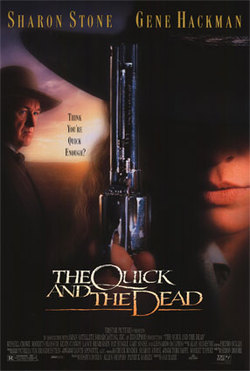 Since it's apparently Spider-Man week here at Monsterfest (I never got the memo), and in New York City where it's showing at the Tribeca Film Festival, let's appreciate another magnum opus from director Sam Raimi that's not only good but — wouldn't you know — airing on AMC this week: 1995's The Quick and the Dead.
The Quick & the Dead is perfect blend of western and horror styles: the tale is classic western while it's told in the crazed style of Evil Dead 2. This was Raimi's first big budget movie with big names. He was personally picked to direct by star Sharon Stone — who plays the lead role of lady gunslinger in a disturbed quickdraw competition, where the losers leave in a casket.
Raimi's the real star of the film , because his talent is evident in almost every shot. It also has the best cast he's ever worked with: Stone, Gene Hackman, Lance Hendricksen, Kieth David, Tobin Bell, a cameo by Westerns legend Woody Strode (in his final film) and a couple of then up-and-comers named Leonardo DiCaprio and Russell Crowe.
The Quick and the Dead is a pivotal film in the Raimi oeuvre, because it's the last time that the "old Sam" of crazy camera angles, sick humor and wildly inventive POV shots was in evidence, now replaced by the more sedate, CGI-crazy Sam of the Spider-Man films and A Simple Plan. It wasn't a big hit back in '95, but audiences have caught up to it. If you don't like Westerns we think you'll like this one and if you love Westerns, then check it out for off-the-wall, goofy fun.
Read More