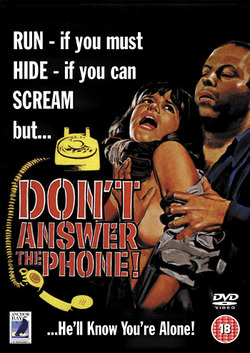 If you ever met Nicholas Worth, like I was lucky do to once in Los Angeles back in 1995, the first thing about him that struck you was his voice. It was deep and distinctive, and he used it like a musician uses an instrument. Yet he didn't come across as overly serious and taken by the great weight of his own voice, although Worth himself was a very serious guy. A born-again Christian, he often found himself at odds with members of his church over the roles he played.
Worth was often typecast as bad guys, criminals or serial killers, such as in 1980's Don't Answer The Phone, his only leading role. In that film he was a madman terrorizing a radio talk show host. It was thanks to that film, and such later works as Wes Craven's Swamp Thing, that he developed a cult following among genre fans.
This led to his memorable role as Pauly in Sam Raimi's Darkman.
One of first of the villains Darkman impersonates, Worth had to
essentially play two people, both a villain and then the nervous hero pretending to be the villain, and he did so with great wit and skill, helping to make Darkman memorable.
Nicholas Worth passed away of heart failure last week at the age of 69. Although most regular viewers would recognize him from bits in No Way Out opposite Kevin Costner and The Naked Gun
with Leslie Nielsen, he was known and respected by horror fans all over
and he likewise treated them and the genre with tremendous respect.
Read More