News Roundup: Horror Metal Band Lordi Makes Movie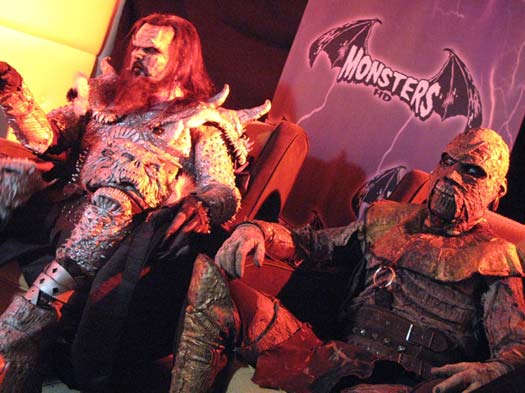 Warner Brothers is making plans to turn the Skulduggery Pleasant book series into their next Harry Potter-like franchise. But will audiences go for a skeleton hero whose name isn't Jack?
Lordi, the Finnish horror/metal band who pulled off a surprise victory at last year's Eurovision Song Contest is currently shooting their first feature film. This could end up being the greatest movie ever made.
Would you read a serial killer's blog (a fictional one)? The producers of Lindsey Lohan's upcoming slasher flick I Know Who Killed Me think you should.
Remember the genre classics of 1982 (Creepshow, The Thing, Poltergeist) at the American Cinematheque this June. What, no Megaforce?
Virgin's Richard Branson is making plans to produce Bollywood horror films and comics in India. If they're anything like these classics, we're there!
Simpsons writer Dana Gould is planning The Last Larry, the first-ever zombie sitcom, for Comedy Central. What hath Shaun of the Dead wroth?
And finally, we mourn the passing of Italian horror director Bruno Mattai. His films may not have been very good, but they sure were fun.
Read More