New Scorsese Foundation Aimed at Preservation, Distribution
Posted by Eugene Hernandez / indieWIRE on May 22, 2007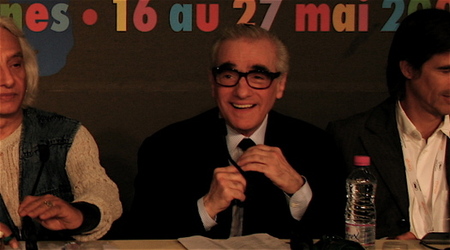 Martin Scorsese, joined by a group of leading international filmmakers on Tuesday in Cannes, officially announced the creation of The World Cinema Foundation.
The not-for-profit organization is dedicated to the preservation,
restoration, and ultimately, distribution of neglected films from
around the world. Created by Scorsese, who has also launched a similar
movement for American films, the foundation "supports and encourages
efforts to save worldwide film patrimony and ensure that these films
are preserved, shared and saved."
Alongside Scorsese at the press conference were a number of the
filmmakers serving as the Foundation's board of advisors, including Fatih Akin, Souleymane Cisse, Stephen Frears, Alejandro Gonzalez Inarritu, Ermanno Olmi, Walter Salles, Abderrahmane Sissako, and Wong Kar Wai.
The foundation will aim to earmark ignored or orphaned films from
around the world. Scorsese explained that one of the reasons he sought
to launch the foundation is its ability to tackle cultural and
political divides. The filmmakers also emphasized the importance of
developing a network of cinematheques around the world that would
screen the preserved films before they are released on DVD.
Recalling the impact of seeing foreign films as a child, he noted,
"this opened up a whole world to me, foreign films on television
introduced me to so many cultures."
"Familiarity of other cultures through cinema can hopefully bring
about a level of political understanding," Scorsese said at the Cannes
press conference, "First come the films and than you want to know more
about the people who made the picture."
Agreeing with Scorsese, filmmaker Walter Salles added, "Cinema is a
fabulous instrument to make us understand our own differences but also
our own mutual connecting points."
The World Cinema Foundation is backing three films screening here in Cannes, including Ahmed El Maanouni's "Transes" from Brazil, Mario Peixoto's "Limit" from Brazil, and Liviu Ciulei's "Forest of the Hanged" from Romania.
[Peter Knegt contributed to this story.]
Read More