New Line Treats Cannes To Preview of "Golden Compass"
Posted by Peter Knegt / indieWIRE on May 23, 2007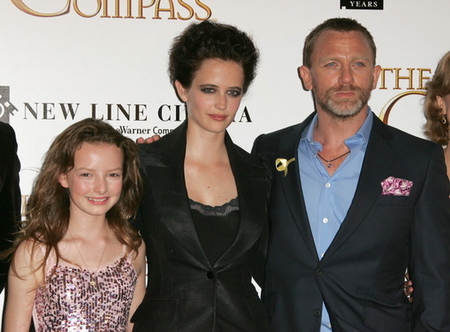 New Line treated journalists and industry folk to ten minutes of promotional footage from Chris Weitz's "The Golden Compass," the $150 million adaptation of Phillip Pullman's first part of the "His Dark Materials" trilogy. Weitz (who previously helmed "American Pie" and "About a Boy"
with brother Paul) nervously introduced the clips. Though its
difficult to draw any conclusions from what is essentially an extended
trailer, the footage looked very promising: Gorgeous sets and
eye-popping CGI, as well as an icy Nicole Kidman stealing frames as the film's villain.
The screening was followed by a press conference. Attendees included Weitz and actors Daniel Craig, Eva Green, Sam Elliot and Dakota Blue Richards
(Kidman expressed apologies but was off shooting "Australia").
Richards, who plays the film's protagonist Lyra, answered questions
under the seemingly paternal gazes of Craig and Weitz. On her
post-"Compass" life, she suggested: "There are now two different
worlds. I just focus on going to school and being me."
Weitz dodged questions about the book's overt anti-religious themes.
"Let me try and give a fair answer," he said. "Pullman is against any
organized dogma. Although we deal with some of these questions
obliquely in this movie, Pullman's ideas are very much alive." Weitz
insists that he "didn't have an agenda" except to "tell as good a story
as possible."
Journalists also poked fun at Craig and Green following up "Casino Royale"
with another film together, asking how they deal with the constant
working relationship (Craig also stars with fellow "Compass" star
Kidman in this summer's "The Invasion"). "We got married," joked Green.
Green also gladly answered journalists questions in French, and
explained that her role as a witch "was like a normal role," apart
"from the fact that I was extended on wires and flying all the time."
The most popular topic of questioning regarded the onslaught of special effects driven epics. "People should be tired of putting special effects in place of story," said Weitz. "People who read the books for their intellectual and philosophical [elements] will not be disappointed."
"The Golden Compass" will be released in North American this December. Producer Deborah Forte said she thinks they "will definitely" make the two films that follow in Pullman's trilogy. [Peter Knegt/indieWIRE]
[Photo: Actress Dakota Blue Richards with fellow "Golden Compass"
cast members Eva Green and Daniel Craig. Photo courtesy of New Line.]
Read More