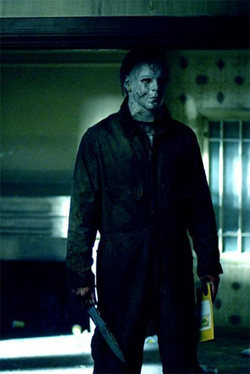 Here's a pic from the Rob Zombie helmed Halloween remake. As you can see, the mask is a little dirtier and more creased, almost stitched looking. He's also carrying what looks like an interoffice mail envelope or some kind of package. That's a heck of a letter-opener in his right hand.
It could be something else, a holiday card?, but I choose to call this one Mailman Michael.
Early reaction seems to be mixed on this rema*e, with the anti-rem*ke crowd feeling so beaten down by the Omen and Texas Chainsaw Massacre reboots, they don't care anymore and feel as if the world is no longer for them. They embrace their DVDs and stay inside. With the curtains drawn.
Click here to see how the pro-r*make folks feel, catch a link to the trailer for Zombie's Halloween and maybe a pic from Bug which we've "outed" as a thriller and not a hardcore horror flick (but there are some cool pics)
Take the leap!
The folks who are all about the rema*e seem to think it's ok/necessary exclusively because Zombie's in charge. Their refrain is: "If anyone but my man Zombie was in charge it would fail, but Zombie, man, Zombie"
Zombies indeed. Our stance is that his previous efforts (Devil's Rejects, House of 1000 Corpses) stole from the right directors and image-factories to make entertaining-enough watches. His heart's in the right place, and here's a trailer that kind of shows him on the right track: Halloween Trailer. The kid in the car is my rave fave shot.
How about that last shot, the thing the industry calls the "button" to the trailer? Pretty familiar (but still cool).
Oh, here's that pic of Bug we promised. That room he's in sure is dirty. Fine, we'll go see it, but only to find out what the heck is on his thumb there.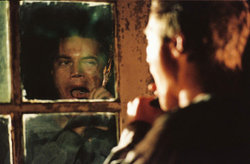 Read More