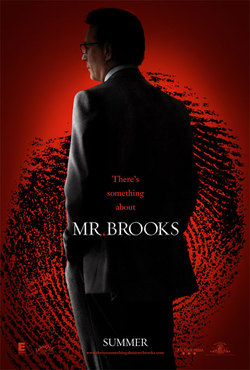 I reckon it just worked out that Monday has worked out to be psychological thriller preview day or PTPD if you will.
This one is fairly high-profile in that it's got an a-list cast, or an a-list cast as filtered through a 90's lens. You got your Kevin Costner, you got your Willam Hurt and you've got your legitimate contemporary "name" Dane Cook.
Early word has it it's a "split-personality with separate actors playing the different personalities" movie in the tradition of Fight Club (not horror, but awesome) and Secret Window (horror, but not awesome).
I bring it to your attention in our continued discussion of what horror is and how it's defined.
(Find out what a "psychethrill" is after the jump.)
Unlike Bug, Mr. Brooks is being marketed with its star power and as more of a "suspense" film than a horror film.
It's clear that "horror" is a hot genre, two of the top four movies
in the box office this week are described that way, and Spider-Man 3,
number one, has a lot of traditional fright-flick elements. But…what
isn't clear is which strategy will work for marketing a "psychethrill."
Bug's strategy is to call itself a horror movie when it might not
be, Mr. Brooks seems to be avoiding the word horror, but is about a
serial killer. It will be interesting to see which one does better and
if that success if based on the quality of the film or the marketing
campaign.
EDITED after deciding "Suspriller" is a better mash-up than "psychethrill". Will use from now on.
Read More