Michael Moore Unveils Kinder, Gentler "Sicko"
Posted by Eugene Hernandez / indieWIRE on May 19, 2007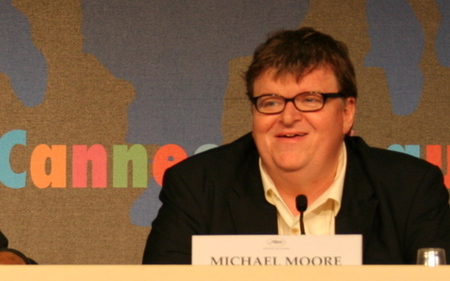 "I decided to make a different film this time," director Michael Moore told a room full of journalists about "Sicko,"
his new film which screened for the first time this morning. "I wanted
a different tone (and) to say things in a different way." Indeed,
"Sicko" marks a distinctly different approach for a director who has
been criticized for aggressive filmmaking tactics. Picking up on the
more personal types of stories covered in his recent "Fahrenheit 9/11,"
Moore's moving new film is structured primarily around human interest
tales of American's troubles with the U.S. health care system. (For
AMC's interview with Moore at Cannes, in which he talks about Sicko and
Hillary Clinton, click here.)
"(I am) tired of all the yelling and screaming and not getting
anywhere," Moore said, hours before his film would have its official
world premiere, adding that he did not want to be a part of that sort
of approach.
In "Sicko," Moore spends a considerable amount of screen time
examining the U.S. from vantage points in France, Great Britain and
Canada. "Why do (Canadians), the French, the British (and the rest of)
the Western World have a longer life expectancy?" Moore asked a
journalist who questioned why this film overlooks some the inherent
flaws in those health care systems. Moore admitted that those are not
his battles to wage.
"The film is a call to action," Moore said, "The film is meant not
for Michael Moore to go and do it, but for the American people to go
and do it."
"Sicko" was met with considerable applause after its first showing
here in Cannes, the audience also clapping during some key moments in
the movie. It opens with brief snapshots of Americans without
healthcare, but as Moore quickly notes in a voiceover, this film is
about the "250 million who have health insurance, those of you who are
living the American dream…"
"It is my PROFOUND hope that people will listen this time with this
film, because I don't want to ten or twenty years before we have
universal health coverage in America and I don't want to wait ten or
twenty years before we as Americans take a look into our soul so that
we can become better citizens in this world."
Read More