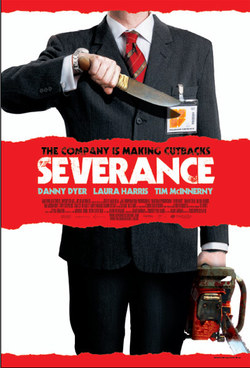 The British horror comedy Severance finally opens in theaters today. Actually, it has been playing in the UK and on the festival circuit since August, hitting most of the major stops (Toronto, Telluride, SXSW). It was originally scheduled to open in March, then April, and then the MPAA objected to some of the advertising. But it may have been worth the wait. A horror comedy about a corporate team-building retreat turned bloody, it's getting good reviews.
Some of you may have seen Severance already. Besides opening in England last summer, it has been on European DVD since earlier this year. Not to mention the bootleg market.
Having worked in independent film distribution, I know how difficult (and pricey) it is for some small-to-medium companies to get a film out. But with file sharing what it is now, releasing a movie in one country while waiting to release it in another may be the same as begging to have black market copies circulating everywhere. Worldwide releases for major studio movies are becoming more common (Spider-Man 3 opened throughout most of Europe a few days before it hit the U.S.).
Will Severance lose at the theatres because its audience here has already seen it by other means? If you haven't seen it yet, you can support indie horror by hitting the multiplex. With some other movies likely to drain much movie-going attention now, Severance will need the help.
Read More