In Theaters: Kevin Costner vs. Lucy Lui vs. Russia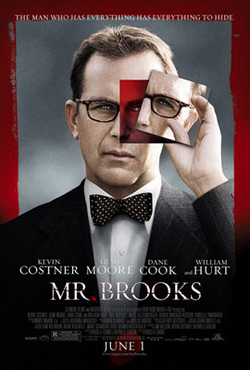 When it rains, it pours: after a few weekends without many new horror movies, this weekend will see a summer storm of flicks. One is a mainstream "thriller" with big stars; one, a bloody vampire flick with action, and the third comes from Russia with subtitles.
The big new release is Mr. Brooks,
Kevin Costner's attempt at changing his do-gooder image, as he plays a
seemingly normal family man leading a second life as a
vicious serial killer. The film also stars William Hurt as Costner's
alter-ego (you read that right), Demi Moore as a cop on the case and
the spectacularly unfunny comic Dane Cook, as a
sleazy blackmailer out to get Costner. As one of Costner's
defenders (Open Range
can't air on AMC enough for me) I have faith that he'll be able to
bring something new to the serial killer genre and, I've
always wanted to see something terrible happen to Dane Cook. Hope I
get my chance!
Also opening (though in a smaller release) is the Lucy Lui vampire epic Rise: Blood Hunter, which premiered at last month's Tribeca Film Festival to positive reviews. Lui plays a reporter-turned- vampire who teams up with cop Michael Chikles to investigates the source of the vampire cult that turned her. The film is said to be nothing more than fast-paced, bloody fun, and sometimes that's all you want from a movie. Here's hoping that Rise turns out better than writer/director Sebastian Gutierrez's last film.
Finally, we have Daywatch, the sequel to the Russian blockbuster Nightwatch that's become the Russian equivalent to Star Wars in terms of scope. Continuing on the streets of Moscow the age-long battle between the forces of light and dark, Daywatch was a big hit on its home turf and is said to be just as good as the original. No doubt it will contain even more spectacular imagery and will feed fan's hunger for the next chapter in the series, Twilight Watch, coming next year.
Read More