In Theaters: 28 Weeks Later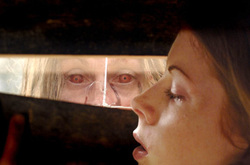 If there's one thing worse than a horror remake – it's a second-rate horror sequel, and so often 2nd rate seems to be the rule these days. But sequel 28 Weeks Later is set to break the pattern.
I wasn't a big fan of Danny Boyle's original 28 Days Later (it owed a bit too much to Romero), but it was a well done, effectively scary movie. It also brought us the yes-or-no zombie debate that rages to this day: Are they zombies or just infected? Whatever they are, they return in this sequel that, while set six months later, actually took four years to reach the screen.
Boyle is one of the producers of the new film, directed by Juan Carlos Fresnadillo, a Spanish filmmaker who made the excellent Intacto
a few years ago. This second installment is said to be more political
and intense than the original. It features a solid cast that includes
the excellent Robert Carlyle and the lovely Catherine McKormack.
One promising comment: It's said to be pretty unpredictable about who
lives and who dies — one of the things that makes a horror film.
The early reviews have been excellent: Fangoria and Dark Horizons both offered raves, but one of the best thus far comes from none other than New York Magazine,
whose critic said that it, "Validates [his] faith in the
disreputable." Now that's the kind of reviews horror movies are
supposed to get! It opens on Friday.
Read More