Hammer Films Rises From the Grave!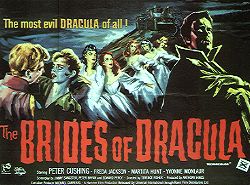 Some of you may have heard the news already, but it's so good it bears repeating: A group of investors have purchased the Hammer Films studio (and its back catalog) and are preparing to relaunch it as a full-blown production company.
I'd like to make a few suggestions to the new Hammer owners about what we, the fans, would like to see from the resurrected studio.
(How Hammer can hit the nail on the head after the jump.)
Set Trends, Don't Follow Them: Even though The Curse of Frankenstein and Horror of Dracula
are technically remakes, those films were seen as fresh and innovative
back in the late 50s because they added the gothic atmosphere and
European sensibility (i.e. sex and violence) missing from most horror
films of the era. Ask yourselves what's missing from horror films
today and then create that.
Only Remake the Lesser Hammer Films: Captain Kronos: Vampire Hunter and Quatermas and the Pit are all fine as-is. But To The Devil, A Daughter? Knock yourselves out!
Stay British: No need to cast Americans or film in the States; we love Hammer because
you're British. And take this opportunity to mine the wealth of
British genre talent that's been making its name over the last few
years (Neil Marshall, Simon Rumley, Michael Bassett).
Christopher Lee: He's still very much with us and still working. Use him!
Good luck, new Hammer owners. Can't wait to see what you come up with.
Read More