Gus Van Sant Premieres Latest at Cannes, "Paranoid Park"
Posted by Eugene Hernandez / indieWIRE on May 24, 2007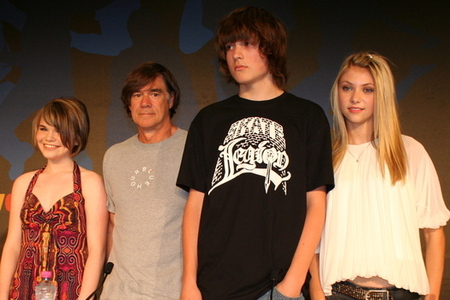 Impressively distinctive is the collaboration between director and actor in Gus Van Sant's latest, "Paranoid Park." Adapted from Blake Nelson's
young adult novel of the same name, the film is the story of a kid who
hangs out at a popular Portland, OR, skate park where he accidentally
kills a local security guard and tries to keep the death a secret. Gabe Nevins stars as Alex, the teen with the secret.
A film with rich sounds and imagery, Van Sant's "Paranoid Park" is
presented in a nearly square 1:37 aspect ratio, merging in one film
many of the stylistic elements employed in his recent trio of films, "Elephant," "Gerry," and "Last Days." (Find out more about Elephant)
Notable in this case, however, is an even stronger narrative structure
that offers a window into the lives of a group of young people.
"I've been attracted to characters that are young," Van Sant said,
when asked in Cannes about his consistent creation of movies about
younger people. "Its my calling, I guess." A number of roles were cast
using MySpace. Later, Van Sant added, "I really like working with non
professionals because…I think in doing that I am trying to bring out
a few of the things that are natural to them and sort of filming that
side of them rather than creating from scratch… or having the actor
build it."
As for the sound and look, Van Sant has woven a number of natural audio and soundscape work into the soundtrack, utilizing some musique concrete that is built upon real world sounds. Much of it is work by musician and sound artist Ethan Rose. For the images, Van Sant worked with frequent Won Kar Wai collaborator Christopher Doyle and Rain Kathy Li
as his D.P. The duo utilized some Super 8 footage, shot by a local who
regularly shoots in the park, for scenes of the kids skating. And they
slowed it down for its usage in the film. "Because neither of us are
skaters, (using slow motion was) the only way to approximate what we
(wanted)…to try to give it a form that we know, celebrating this
incredible energy. The physicality of skating," said Doyle.
[Photo: From left to right: Lauren McKinney, Gus Van Sant, Gabe
Nevins, and Taylor Momsen at the Cannes Film Festival. Photo by Eugene
Hernandez/indieWIRE]
Read More