Greatest Spider Movie Ever!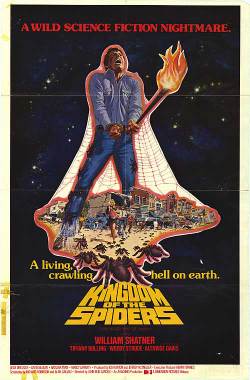 I'm disappointed in my co-blogger Todd who spent the week on spider movies but didn't mention what is probably still the best spider movie ever, 1977's Kingdom of the Spiders, starring William Shatner. I'm here to set things right.
Here is why this kingdom reigns above all others:
The Cast – As mentioned, Kingdom of the Spiders stars William Shatner. While his casting may lead some to think that the film is campy, he admirably plays it straight and is actually good in it. Then you have cult movie fave Tiffany Bolling (from The Candy Snatchers) and the great Woody Strode (it's also Woody Strode week here at Monsterfest).
Real spiders – Unlike most movies that use fake CGI spiders, Kingdom actually used over 5,000 real tarantulas, and some of the most terrifying scenes simply involve watching them crawl all over the place. When it comes to spiders, nothing beats the real thing!
It's Got Great Scares – Kingdom of the Spiders has awesome scare scenes, especially one involving a bi-plane, a daylight attack on a small Arizona town, and in the finale, when they invade a boarded-up restaurant. Trust us, these moments kept us awake at night when we were kids.
It's Well Made – Kingdom was directed by former stuntman John "Bud" Cardos, who knows how to keep the action moving. Even better, he understands the need for quick cutting when it comes to the spider scenes, making the little buggers even scarier.
It's Rated PG! – Since it's not too gory, Kingdom of the Spiders was rated PG and as such, played on TV a lot during the late 70s and early 80s.
Did I mention William Shatner? – Pity he never got to make that sequel he was supposed to star and direct in, but we'll always have the original.
Take that, Giant Spider Invasion!
Read More