Does Bug Translate From Stage Play to Film?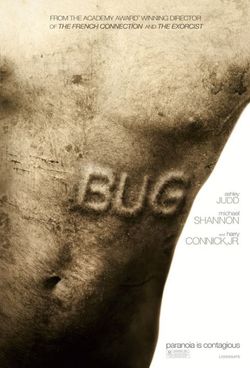 William Friedkin's Bug hits theaters this weekend, a year after it played the 2006 Cannes Directors Fortnight, a sacrificial box office lamb up against the latest Pirates of the Caribbean adventure. Reviews have been decidedly mixed, with some calling this a comeback for Friedkin, while others saying it's another The Guardian. It's also being sold as outright horror film, which isn't exactly true. The film is an intense psychological character study, and anyone expecting another Exorcist will probably be disappointed.
Bug is based on a 2004 off-Broadway play (which also starred Michael Shannon, who stars here), which is one of the most interesting things about it. You don't see a lot of horror movies based on stage plays. Perhaps Bug, the movie, will illustrate why.
Bug, as both a play and a movie, is a two-character piece about a lonely waitress (Ashley Judd) living in a run-down motel who meets a mysterious drifter (Shannon) while hiding out from her abusive ex-husband Harry Connick, Jr.). The bugs of the title are imaginary ones that Shannon believes live under his skin and that's where the creepy stuff kicks in. But the film goes for claustrophobia by not leaving the motel room for most of the running time, and though the most memorable scene Friedkin ever directed took place in a small bedroom, will the horror fans in the audience be able to stick with this movie?
While the stage version of Bug got good reviews, filmed plays are not easy to pull off, so we're cautiously optimistic that Friedkin can come up with something to freak us out while helping us forget Blue Chips and Jade. If you see it this weekend, let us know what you think.
Read More