"Diving Bell and the Butterfly" Gets Awards Buzz at Cannes
Posted by Eugene Hernandez / indieWIRE on May 24, 2007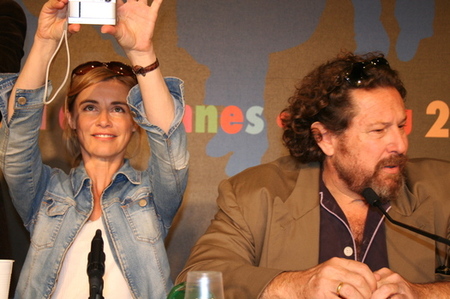 The latest film from Julian Schnabel has had
audiences buzzing here this week, many saying it is the front-runner
for the Palme d'Or for best picture, which is awarded by the festival's
jury. Based on Jean Dominique Bauby's 1997 book "Le Scaphandre et la Papillon,"
Schnabel's French-language film of the same name — translated as "The
Diving Bell and the Butterfly" — looks at Bauby's life. A noted
journalist from France, Bauby was the editor-in-chief of the French
magazine, Elle before suffering a severe stroke which left
him mute and paralysed. Unable to speak or write, he composed his
autobiography entirely by dictation through a series of blinks and some
grunts. He died in France three days after the book was published.
A hot commodity among buyers since its premiere in Cannes earlier
this week, the film was acquired for North American distribution by Miramax in a deal announced just today (Thursday) at the festival.
Saying the he hoped the film would be "a tool…a self-help device
that can help you handle your own death," Schnabel was originally given
the book by Darin McCormack, who had served as a nurse to former Warhol Factory manager Fred Hughes.
Schnabel would read to Hughes, who was confined to a bed in New York as
a result of debilitating multiple schlerosis. Producer Kathleen Kennedy, a frequent collaborator with Steven Spielberg, handed actor Mathieu Almaric (who plays Jean Dominique Bauby) Ronald Harwood's script for the film after Johnny Depp had to bow out due to commitments to "Pirates of the Caribbean."
Elaborating on the ideas behind the movie during a Cannes press
conference, Schnabel explained, "Sometimes I see things and I feel very
happy and I feel that life is a wonderful thing," he explained. "Other
times I wonder, why does (anyone) have to die…and then you think
about making something meaningful out of your life."
"This is going to sound crazy," Schnabel said of Bauby. "He's kind of like Christ, because he is dying for our sins in a way."
"(He) tells you, grab the present, look into your interior life."
Explaining his performance as the French editor and writer, Matthew
Amalric called the paralyzed writer a sort of "peeping Tom," adding,
"There is a great power that one has within silence." And while
Schnabel spoke of the inherent Christ-like metaphors at work in the
film, Amalric continued, "I didn't want to turn him into a saint, I
just wanted him to be a human being."
Photo: Actress Anne Consigny with director Julian Schnabel at the Cannes Film Festival. Photo by Eugene Hernandez/indieWIRE]
Read More