Day Watch: The Universal Language of Screams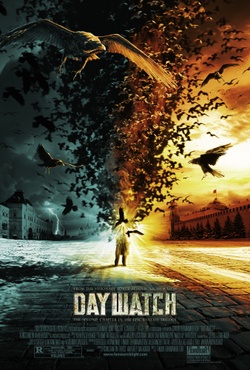 What to make of Day Watch? The trailer is full of epic swordplay and cars driving on the sides of buildings action movie style (see it here: Day Watch Trailer), but from having seen Night Watch (the first part) we know it's full of vampires and people turning into ravens and sucking souls.
It seems like it should appeal to everyone: fantasy fans, horror fans, mayhem fans, special-effect freaks, but it opens on June 1st , which is like soon, and this is sort of the first I've heard of it. Nobody's talking about it, and that might be because this is the Summer of the Blockbuster Second Sequel (Spider Pirates of Shrek's Caribbean) and "smaller" films are getting lost in the shuffle.
Maybe it's because there are no big stars and because it's not in English that Fox/Searchlight is unclear how to market it. You can always tell a movie is in another language if the only dialog you get in the preview is "Auughh!" I think it's pretty clear that studio execs think subtitles in a preview will scare folks off.
But…to follow the train of thought on this, take the leap. Linkwatch!
But…the subtitles in Night Watch were the coolest thing ever in the history of ever. When the vampire dude is luring that kid with his creepy Russian thought-speak, the words printed on the screen kind of dissolve and drip, they change colors and melt. It totally adds to the experience and is a total selling point.
Night Watch is probably the best movie I ever read.
I've been saving that line up, and only you, hard-core link-clicking reader get to see it. How dear you are to me.
So, maybe they're going for the old subtle word-of-mouth marketing campaign, but I think they should play the foreign card proudly. Go see it, so when they remake it with Nicholas Cage*, you can say "I preferred it in the original Russian. I'm totally into R-Horr." You will be the first person to say R-Horr out of everyone you know.
*Just to be clear, there are no stated plans to remake these movies with the Cagey one, but you know someone wants to.
Read More