Carrie's Blood Runs Through 28 Weeks Later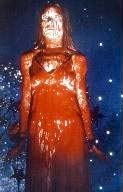 Blood. It's unsettling stuff. And for years, the kind that most unsettled me – in horror movies at least – was the black variety.
Maybe it had something to do with the quality of the fake blood used in color movies back in the sixties and seventies. Generally speaking, it wasn't nearly as realistic as the state-of-the-art kind that blasts out of current movies like 28 Weeks Later.
The two most memorable scenes from my early horror-movie-watching days were both from black-and-white films. There was, first and foremost, Kyra Schon stabbing her mom to death with the masonry trowel in Night of the Living Dead (greatest single scene in a horror film ever?), and then there was Bruce Dern getting cleavered to bits in 1964's Hush, Hush… Sweet Charlotte.
Perhaps because these scenes took place in black-and-white films (where I was conditioned to expect less violence than in a color film), the black blood that flowed in them had a very visceral impact on me. These scenes felt REAL in a way that few of the bright-red scenes in the color horror films I watched back then could match. (Sure, I appreciated the blood that flowed so lavishly in the Hammer films – especially those featuring Christopher Lee's amped-up, animalistic Dracula – but at the same time, deep down some part of me still knew the gore was theatrical.)
Then, in 1976, along came Carrie. Brian De Palma's original high school mean-fest took blood out of the back row and put it center stage as no movie had done before. The blood in this film was less like a special effect and more like a star character. Maybe I'd seen other characters covered in blood before, but none of them had ever been drenched in it the way poor Sissy Spacek was at the end of this film. With Carrie, blood truly went from black to red.
Best use of blood in a horror film ever? I'll leave that an open question.
Read More