Cannes 2007 Gears Up For Premiere of New Wong Kar-Wai Film
Posted by Eugene Hernandez / indieWIRE on May 16, 2007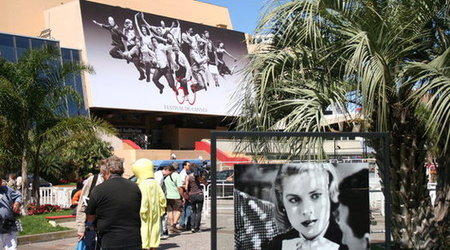 Typically quiet Cannes in the South of France perked up on Monday
and Tuesday as workers with trucks and cranes placed signage, banners
and large movie billboards along the Croisette in time for Wednesday's
opening night. The Festival de Cannes is set to kick-off its 2007 edition with Wong Kar-wai's "My Blueberry Nights,"
the anticipated English language debut from the acclaimed Chinese
filmmaker who is such a favorite of the festival that his image — arms
held high — graces the Cannes poster this year (and a still from his
"In the Mood for Love" served as last year's poster).
On a warm Tuesday afternoon, Wong walked along the Croisette,
seemingly unnoticed in his trademark dark glasses as he headed towards
the Grand Hotel just about 24 hours before his premiere. Festival
observers and fans certainly breathed a slight sigh of relief at the
sight of the director. Just three years ago Wong arrived a day late
with a wet print of "2046," forcing festival organizers to postpone the
film's debut. His appearance is a good sign that Cannes will kick-off
as scheduled.
Actress Maggie Cheung, a frequent collaborator with Wong Kar-wai, is among the jurors who will judge Wong's film and the other 21 titles in competition. She will be joined by actress Toni Collette from Australia, director and actress Maria de Medeiros from Portugal, director and actress Sarah Polley from Canada, director Marco Bellocchio from Italy, writer Orhan Pamuk from Turkey, director and actor Michel Piccoli from France, and director Abderramane Sissako from Mauritania. Filmmaker Stephen Frears will preside as the jury president.
Festival planners confirmed Tuesday that the Cannes opening on Wednesday night will include an appearance by German actress Diane Kruger, as well as the world premiere of "Absurda," a new short film made by David Lynch.
It was said to be "dedicated to movie theatres as a surprise gift for
the Festival, to mark its anniversary," according to Cannes planners.
As an added bonus during the launch ceremony, the event will be
formally opened by Cannes veteran Manoel de Oliveira, noted as the only director to have made films ever since the silent era, and Princess Shu-Qi.
Read More