Argento Classic Suspiria Restored, and a New Classic on the Way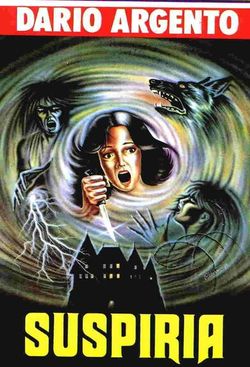 Italian horror maestro Dario Argento greeted a full house of ardent
fans at the Salle Buñuel last week, as he introduced the glowing new
digital restoration of his classic 1977 film, Suspiria, 30 years (almost to the day) from the film's Cannes debut.
One of the last movies shot in Technicolor, Argento's tale of a
mysterious ballet academy stars Jessica Harper and Alida Valli, and is
legendary for its delirious color, ornate production design, and series
of stunning murder set pieces (each of which was met with a rapturous
round of applause). The film screens alongside gems like Sasha Guitry's
Donne-Moi Tes Yeux and Howard Hawks's Rio Bravo in this year's Cannes Classics sidebar.
Typically seen stateside in a dubbed English version, Suspiria,
masterfully restored by Brigitte Dutray of Wild Side Films, unspoiled
in its original Italian. So meticulous was the presentation that an
unrestored 35mm Italian print ran while the movie played, just in case
anything went awry. The mix is a clean mono; Ms. Dutray told me that a
5.1 audio version is planned for the DVD release.
All of this is great news for Argento fans, who have long been unable
to see a complete version of the film, theatrically or on DVD. And it
just gets better: Suspiria will be among the first titles released by
the new Weinstein label, Dimension Extreme. And in the Cannes Market,
Myriad Pictures screened the trailer for Argento's forthcoming film, The Third Mother (aka Mother of Tears), which, like Suspiria, takes witchcraft as its subject.
Of his upcoming project, Argento said, "I hope to be back at Cannes
next year; this time en concours (in competition)! The maestro received
a standing ovation.
[Livia Bloom]
Read More