Angelina Jolie Wins Raves for Performance As Daniel Pearl's Wife in "A Mighty Heart"
Posted by Brian Brooks / indieWIRE on May 21, 2007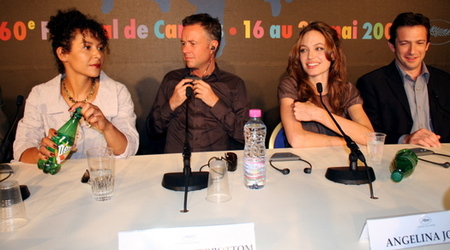 The true story of a murdered journalist was the high profile film in the Cannes spotlight on Monday. As expected, Michael Winterbottom's "A Mighty Heart," screening out of competition here at the Festival de Cannes, drew considerable attention for its world premiere. In a story that riveted news agencies around the world five years ago, Wall Street Journal South Asia Bureau chief Daniel Pearl
was brutally murdered by al Qaeda days after his kidnapping in Karachi
as he delved into research on a story relating to shoe bomber Richard Reid. Following his death, Pearl's wife Mariane recounted the story in her memoir A Mighty Heart: The Brave Life and Death of My Husband Danny Pearl, which she hoped would introduce their son, Adam, to the father he would never meet. Brad Pitt eventually bought the rights to the book and set up the film at Paramount Vantage, tapping Michael Winterbottom to direct, with Angelina Jolie cast as the author.
"I trusted [Winterbottom] with this project," said Marian Pearl
at a press conference in Cannes Monday morning. "I knew this wasn't
just about me, but that [the story] was important for Americans as
well."
Continue reading "Angelina Jolie Wins Raves for Performance As Daniel Pearl's Wife in "A Mighty Heart""»
Read More