Warlock: The Shifting Sands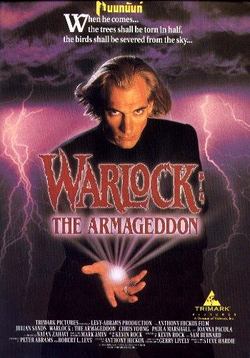 Julian Sands. Mention the name to any English major with a girlfriend*, and watch them seethe involuntarily and mutter, "O' Paynfull Memr'y".
The name "Julian" was on their lover's lips and in their lover's sleepytime dreams after his limpid flowing desperate blondboy slinkact in Room With a View and Gothic. How could mortal man compare?
Fortunately, he walked the Trail of Sneers and took the Warlock job, and there were movies you could watch together.
The pitch: A time-traveling man-witch menaces the Beastmaster's sister** and tries to check out an evil book from the library until a stumbling Englishman helps save the day.
These were goofy fun and as Hammer Films showed with their frequent Cushing/Christopher Lee pairings, a horror flick aint a horror flick unless you have two Brits chasing each other around.
Now, the band Warlock has no relation to this, really, unless you think the lead singer is sort of an alternate reality female version of Julian Sands*, but this video is crystal skull cool! Mystic Devil Click!
*it's possible (are you allowed to use the same footnote twice?)
**You know, the preacher's daughter from Footloose***
***Lori Singer! Duh!
Read More