This Week's DVDs: Godzilla vs. Bava!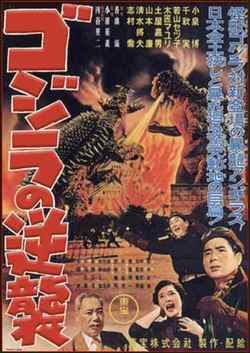 On one hand, it's a slow week for genre DVDs, with only a few notable titles coming out. But man, oh man, those titles sure are doozies! But if you had to twist our arms, we'd say the top new titles of the week are…
Godzilla Raids Again and Godzilla vs. Mothra, both from Classic Media, are both in stores now and as Monsterfest readers you know you must have both of them. Godzilla Raids Again is the first of all the Godzilla sequels, originally released in Japan in 1956, and is the first to pit the Big G against another giant monster, this time the spiky Angirus. The disc contains remastered editions of both the original Japanese version and the U.S. cut (called Gigantis: the Fire Monster) on one disc, along with audio commentaries and a new documentary about the art of "suit acting".
1964's Godzilla vs. Mothra is actually the 4th film in the series (after Big G's little altercation with King Kong) and is often considered by many to be one of the best of the entire series. As with the last film, fans can now delight in a great new transfer of the original Japanese version (in beautiful 2.35:1 Tohoscope) along with the U.S. cut (cropped at 1.78:1) and Godzilla expert audio commentary. These Godzilla reissues are a fan's dream come true and are both highly recommended.
The other big release of the week is Anchor Bay's first box set of The Films of Mario Bava, easily the greatest genre filmmaker Italy has ever known (sorry, Cozzi fans) and one of cinema's all-time great visual artists. The films included in the set (Black Sunday, Black Sabbath, The Girl Who Knew Too Much, Knives of the Avenger, Kill, Baby, Kill) have all been available before, and by all reports, the transfers (which were good to begin with) haven't underseen any kind of major restoration. But there are new supplements for most of the features and having these films back on the market is one sign of the world regaining its sanity, so if you've never seen any of these films before, you are in for a treat.
The week's only other notable release is the release of last year's remake of Black Christmas, which, by all accounts, wasn't so hot. As usual, stick with the original.
Read More