This Week on DVD: Mexican Horrors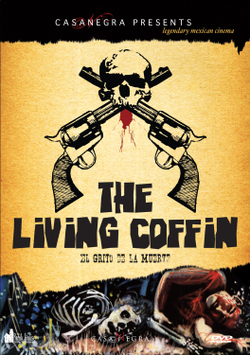 The reputation of Mexican horror films was sullied back in the 60s and 70s by the trashy dubbed versions that aired on TV. But seen in their original form those Mexican scare flicks are good stories with unique, gothic spins on vampires, werewolves and other monsters. This week, Casa Negra is putting out a pair of classic Mexihorror films from the 50s, The Living Coffin and The Man and the Monster, to add to their already impressive DVD lineup. Casa Negra has been remastering the pictures and bringing back the original soundtracks and these should look sharp.
Not to be outdone, it's also a big week for Italian and Spanish horror, with re-issues of Lucio Fulci's House By the Cemetery and The Black Cat , Lamberto Bava's Macabre, and Jorge Grau's awesome Let Sleeping Corpses Lie, all courtesy of Blue Underground, while Dark Sky is giving us brand new releases of Antonio Marhgaretti's giallo Naked You Die and Ricardo Freda's Tragic Ceremony.
We're not so sure about this week's other new releases, such as Hoboken Hollow, starring Dennis Hopper and Michael Madsen, or Thr3e, based on Ted Dekker's best-selling Christian horror novel. Then there is Diary Of A Cannibal, from the infamous Ulli Lommel. Don't want to see that. There's also something called Satan's Cannibal Holocaust. Good luck with that one.
Read More