This Week In Theaters: Vacancy and The Tripper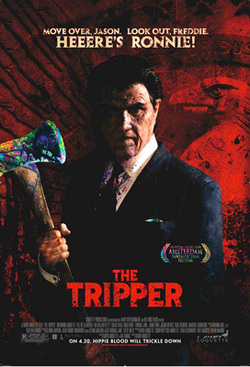 Two new genre films compete for your hard-earned tax refund, but you're going to have to look for one them. Here's what you can look forward to:
Of the two, Vacancy has the bigger release and is getting decent reviews already. This motel horror film stars Kate Beckinsale and Luke Wilson as a married couple stranded in the middle of nowhere who check into a run down motel and discoverhat guests check in, but don't check out. (Like that one? I made it up myself.) I've got to say that the trailer looks good and motels are scary (Psycho and Motel Hell, anyone?). And it was directed by a guy named Nimrod.
A dark comedy with an inspired premise, David Arquette's The Tripper, is the story of a homicidal maniac with a Ronald Regan fixation. There so much that can be said about this, but I'm just going to let that stand for itself. Arquette's wife, Courtney Cox, co-stars along with Jamie King and Thomas Jane. It's a very limited release for this one, so keep your eyes peeled.
And though it's not horror, Hot Fuzz, the latest from the team behind Shaun of the Dead, also opens. Some think it's overrated, but they're in the minority.
Read More