Spider-Man 3 = Horror Movie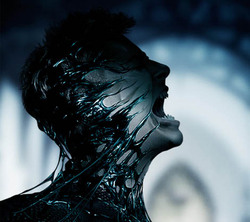 Spider-Man 3 is a horror movie, and when it dominates the box office next week, we want the boastful ads to proclaim: "It's the Number One Fright Flick in America!"
Does it have monsters? Yes. Here's the checklist:
a) A fiend who's body is composed of living sand, talk about your Blood Beach! He can manipulate his fists into the shapes of terrifying weapons, seep under doors, and bullets pass right through him! Horror show!
b) A creeping black-liquid parasitic symbiote who can take over your mind and force you to do terrible things to your enemies…and worse things to your friends. Slither-esque!
c) The enraged and misguided son of a monster takes up the gore-soaked mantle of his father and hurls razor-tipped bats and exploding jack-o-lanterns! Quelle Horreur!
And who must deal with these terrors? Why, a couple of curious teens and a helpless old lady.
It's going to be three hours of jumps, scares and creeping dread. Spider Man 3 is poised to be the biggest Horror movie of all time!
Read More