Sisters Are Doing It For Themselves – Grindhouse Style!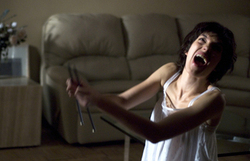 Over the weekend, this Monsterfest blogger took it upon himself to support his favorite genre with two unique new releases, one of them playing theaters nationwide (at least for the time being) and the other currently on the festival circuit and both well worth your time and money.
Don't listen to the haters, because Grindhouse really is 3+ hours of fun and a little something more unexpectedly thrown in the mix. The Robert Rodriguez-directed Planet Terror is enjoyable for what it is and the faux trailers easily put a smile on your face, but Tarantino's Death Proof segment deserves to be considered a new classic. Not only does it contain one of the greatest car chases in movie history, but there is a scene of violence that is so shocking and disturbing – and filmed so superbly by Tarantino – that it out-Argentos Dario Argento himself. And to those who complain that too much of this segment is just boring talk, all I can say is that I'd rather spend another 90 minutes watching these likeable and interesting women gab on than sit through another empty exercise in zombies, explosions and shootouts. Or Chocolat.
Another female-oriented horror film comes courtesy of writer/director Douglas Buck and his remake of Brian De Palma's Sisters, which screened this past Saturday at the Philadelphia Film Festival. The original is famous mostly for a shocking murder that occurs in the early reels and Buck's film repeats this classic moment; from this point on Buck takes the material and makes it his own. The film becomes a darker, more psychological study of the connection between women, absent parents and the manipulation of a male-dominated society. Buck's film has its own merits and is easily one of the few horror remakes made these days that justifies its existence.
Read More