Pakistani Zombies Invade Philly!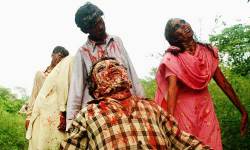 Philadelphia's growing reputation as a city for horror has much more to do with resident filmmaker M. Night Shyamalan. De Palma shot his 1981 classic Blow Out there and local film enthusiast Exhumed Films have been running horror and exploitation retrospectives in town for 10 years now. But more importantly, the Philadelphia Film Festival, now in its 16th year, has always made time for quality horror films with their Danger After Dark program, which features another solid lineup of genre fare this year, much of it making their East Coast or U.S. premieres. A rundown of the gore, thrills and zombies you can expect after the jump:
Sisters – Doug Buck's remake of the early De Palma hit. We'll be seeing it Saturday night (with Buck in attendance).
Trigger Man – Ti West's new one, which previously screened at SXSW.
Hell's Ground – Pakistan's first ever modern horror film, filled with zombies and buckets of gore, produced by the geniuses at the Mondo Macabro DVD label.
Dead Daughters – U.S. premiere of the latest Russian genre hit.
The Living and the Dead – Simon Rumley's dark and haunting family drama, as disturbing as any horror film you'll see this year.
Them (Ils) – East coast premiere of this suspenseful French/Romanian thriller.
Severance – Dark comedy from Great Britain, due for release soon from Magnolia Pictures.
End of the Line – Montreal helmer Maurice Devereaux's latest finds religious psychos on the attack in an underground subway system.
Trapped Ashes
– U.S. premiere of this anthology from directors Joe Dante, Sean
Cunningham, John Gaeta, Monte Hellman and Ken Russell. A mixed bag,
with Hellman's segment taking top honors, but Dick Miller is in it, so it can't be that bad.
S&Man – J.T. Petty's documentary about the underground horror scene.
Unholy Women – A new Japanese horror anthology.
The Unseeable – A new Thai ghost story from the director of Tears of the Black Tiger.
East coast residents are encouraged to attend, especially since they're not charging $18 per movie like some other overrated film festivals we know of. Grab a hoagie, crank up The Hooters and check out some cool flicks in a hot town!
Read More