News Round Up: Attack of the Remakes!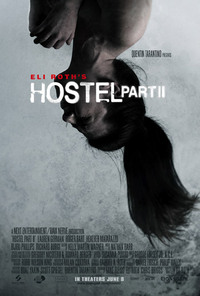 Remakes here, get yer remakes here! Christine! Terror Train! Audrey Rose! April Fool's Day! Get 'em while they're hot! Or not…
Speaking of remakes, it's looking like Anthony Hopkins will be playing the Claude Rains role as the father to Benicio Del Toro in the remake of The Wolf Man. But who will play his role in the Audrey Rose remake?
The MPAA is now cracking down on the website for the upcoming horror comedy Severance for being too gory. So don't tell them about this site!
The poster for Hostel Part II is now online and is thankfully less stomach-churning than the last one. As for the movie itself, we won't know until it comes out in June.
Speaking of posters, Fox Searchlight is asking genre fans to vote for the best poster for their upcoming evil kid thriller Joshua. The first one gets our vote.
The "complete" cut of Death Proof, Quentin Tarantino's equally brilliant and misunderstood contribution to Grindhouse is playing in competition at Cannes. We seriously doubt the Bela Tarr entry will have as cool a car chase as this one.
And finally, Robert Englund will be appearing in a new movie called Zombie Strippers. And with this news, I am now of the belief that all is right with the world.
Read More