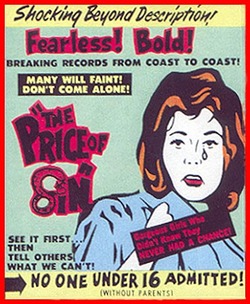 We sure maligned that Reaping flick, and it rated lower than Catwoman on rottentomatoes, and yet…and yet…it made almost exactly as much as Grindhouse last weekend. How can this be? Was not the hype and promotion for G'house at critical mass? Weren't the reviews hyper-awesome? It got creeeeeamed by not only the number one skating movie, but also that reheated Ice Cube movie, which I reckon is a triumph of familysploitation over exploitationsploitation*.
*I defy you to google that term and hit anywhere but here, goatlings, but it totally fits. We coined it, and it's the currency of the realm, baby. Anyway, best joke ever follows:
We know the score, Blades of Glory kicked ice, so I reckon….the 'House doesn't always win.
Bruce Villanch better watch his back, I'm on fire today. Blogsmoke rises and blogflames spread!
We're surprised, because the movie was totally awesome. It absolutely delivered on every promised level. Fun, wild, shocking, gross, lusty, violent, exciting, sexy. The fake previews were worth the price of admission, and the best of those was…Don't. If you have blood in your soul and wit in your head, you will see this in the theater and stay at least as long as it takes to see Don't. It has changed my life forever.
So, how can the low numbers be explained? They can't. I think we think we're a bigger audience than we are.
And that's a great topic for tomorrow. We think we're a bigger audience than we are!
If you're thinking of missing Grindhouse in the theater….Don't.
Read More