In Theaters: The Invisible and Wind Chill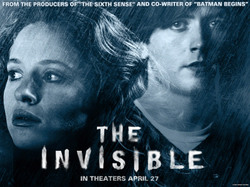 Movies often come in twos in Hollywood: If there is one Volcano movie in theaters, there's a second. When a Mars movie appears on the horizon, sure enough, there's a second Mars movie right next to it. This week the rule of twos applies to ghost flicks, with two opening on the same day, The Invisible and Wind Chill. That's not the only thing they have in common; neither film is being screened for critics – usually a warning sign. We'll know more come Friday after they're released.
The Invisible is getting the larger release, although it's been bouncing around the schedule for a bit. A remake of a 2002 Dutch film, it stars Justin Chatwin as a murdered teenager who returns as a ghost in order to find his killer. He must do so before his body is laid to rest. It's a combination of DOA and The Sixth Sense. Here's the official U.S. site (yes, it's a MySpace page) and the official Russian site, for those of you who like to feel sophisticated.
Also opening (but in limited release) is Wind Chill, starring the lovely Emily Blunt and A History of Violence's Ashton Holmes
as a pair of college students traveling home for the holidays who find
themselves stranded in the snow. They are haunted by the ghosts of
people who previously died in the same spot. With none other than
George Clooney and Steven Soderberg as executive producers and a rising
star like Blunt in the lead you've got to wonder what, if anything, may
have gone wrong here. As I said, we'll know more Friday.
By the way – also opening Friday is the Jamie Kennedy opus Kickin' It Old Skool, which isn't horror but sure looks scary. You've been warned.
Read More