In Theaters: Grindhouse and The Reaping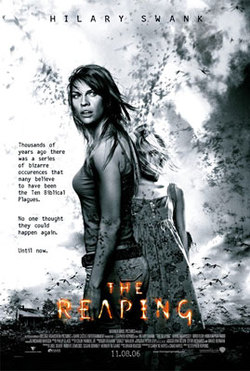 It may only be April, but 2007's most eagerly anticipated horror film finally opens this Friday. After an originally scheduled late 2006 release date, this bound-to-be classic frightfest will at long last give moviegoers all over the thrills, chills and screams that they have been anticipating ever since the project was originally announced. The only question now is can the film live up to all the advance hype? Can you wait just a few days more for unspeakable terror that is The Reaping?
Wait a second… The Reaping?
Oh, come on, folks, we all know you guys want to see this week's other big horror opening first, but let's give The Reaping some props for daring to open up against this bound-to-be behemoth. After all, this film is Hillary Swank's follow-up to her Oscar-winning role in Million Dollar Baby and it comes from producer Joel Silver's Dark Castle Entertainment. Director Stephen Hopkins is a genre vet whose record, although spotty, has done some good stuff in the past and you have to admire Warner Brothers for opening up a big end of the world horror film on Easter weekend. It might even be good! And besides, since we really are coming up towards the end of the world, let's see what it's going to look like and take notes.
And yes, Grindhouse finally opens this week and we all know that we're all going to see it (even you, Scooter). The early word is quite good with many saying (no surprise here) that Rodriguez's segment is just OK while Tarantino's segment is legitimately good and apparently features one of the best car chases in movie history. What else can we say? Can't wait!
Read More